[Update 12 – 18 April 2017]
WILL "UNKNOWN FORCES" STOP A NORTH KOREAN NUCLEAR DISASTER?
In this update, I'll be talking about the coming North Korea nuclear scare vis-a-vis the globalists' UFO / Space Aliens Psyop. But before anyone's eyes glaze over due to "all talk of UFOs is for nutters" programming, I'd like to point out that the "UFO disclosure movement" is a disinformation front that was st..., and it is very much an official part of the NWO strategy. So in this short update, I'll show you why they started the movement and how it relates to what's happening right now in North Korea.
Do you remember in February of last year when…
the CIA released its UFO files
…just three days before…
the X-Files returned to TV with a story about UFOs coming to Earth because of the H-bomb
…while…
North Korea was in the news due to their supposed H-bomb development and pending missile test?
During all that, I wrote The CIA, the X-Files, and the North Korean H-bomb: A coordinated ca... And in it, I mentioned this…
…when North Korea conducts either the currently-planned or a future missile launch, will a "mysterious object" (UFO) be spotted near it before it explodes in midair or crashes harmlessly into the ocean?…

More than anything, the globalists want you to believe in benevolent aliens, at least for now. This is because they are planning to send in their electrogravitic craft and GMO humanoids (posing as UFOs and aliens) to save us from a staged nuclear exchange this September. They want to totally blow people's minds, and once those minds are blown, they will construct a new paradigm in them which will facilitate the rest of their "End Times" agenda.
So if you hear talk of "unknown forces" stopping a nuclear disaster during the North Korea Show, that's what the globalists are setting up. The "unknown forces" would likely not show up again until the second nuclear crisis in Turkey, and then, they'd introduce themselves.
The whole purpose of the UFO / Space Alien Psyop is to blow people's minds and open them up to new possibilities, including the possibility that Putin is the Messiah and Assad is the Mahdi. Without something happening to blast people out of their mundane workaday reality, such claims about Putin and Assad would be met with scorn. But if "ETs" show up to either break the news or corroborate it, that's another matter entirely.
That being said, is there another way for the globalists to approach the whole Messiah / Mahdi / Space Aliens Psyop?
– Yes there is, and I call it the "keep it on the down-low scenario," or more simply, the "low road." This is how it would unfold…
> There would be no big, formal attempt to herald the arrival of the Messiah and the Mahdi after the Holy War. They would simply let the geopolitical script play out, then have their Jewish, Christian, and Muslim prophecy propaganda corps start "noticing" that the prophecies have been fulfilled in Putin and Assad. This would be built up in the public mind over the first couple of years of the NWO.
> They would continue preparing the public for a faked ET arrival by announcing that life has been conclusively found on another planet or moon and by discovering "Planet 9" and its moon(s). The "Planet 9 aliens" would then show themselves some time during either the first couple of years of the NWO or near its 7 year end-point. Given that the public is being programmed to expect Planet 9's discovery in 2018 or so, that's a good estimate for when they'll trigger the Psyop…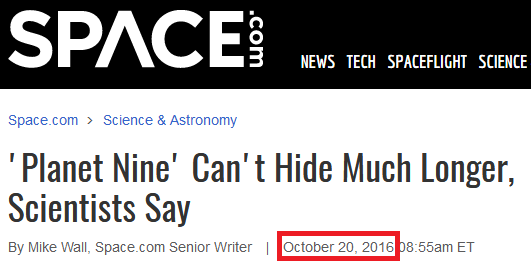 …From Space.com. Here is an excerpt…
"Planet Nine's days of lurking unseen in the dark depths of the outer solar system may be numbered.

The hypothetical giant planet, which is thought to be about 10 times more massive than Earth, will be discovered within 16 months or so, astronomer Mike Brown predicted."
To read more about how "Planet 9″ figures into the UFO / Space Aliens Psyop, read these entries…
How the New World Order Agenda Drives the "Planet X / Nibiru" Myth
Planet 9 / Planet X / Nibiru continues to go mainstream
The Truth about "Planet 9 / Planet X / Nibiru" and its Supposed "Al...