Seeking truth to be Free! - December 27th 2015 ~10 posts.
Knowing.The Creator Writings.Transcribed by Jennifer Farley, ThetaHealing Instructor/PractitionerDecember 27, 2015. A greater awareness of you comes from knowing that you do not know much about anything at all. Creator *Tanks to *URL: http://wp.me/s3fIGI-knowing ------------------------------ *Please respect all credits.* *This author archives:* http://rayviolet.blogspot.com/search?q=Jennifer+Farley *All articles are of the respective authors and/or publishers responsibility. * *No religious or political belief is defended here.* *Individually you can be helped to find...
more »
.
.
Message from Montague Keen. Through Veronica Keen. December 20, 2015. The release of humanity has begun. Ireland is taking the first steps to release humanity from captivity. Watch this video Their time has come to turn the key that has waited so long for humanity to be sufficiently awake to recognise what needs to be done. Since my passing, I have been guiding Veronica on this. Now, others have got the message and done their own research on it. I thank them for their input. I have always told you that Ireland is the key that will unlock everything. The Irish are now awake. They h...
more »
.
.
Renewal. You are about to enter a new phase.Angel Wisdom with Sharon Taphorn. December 27, 2015 You are entering a magical time of rebirth into this next stage and so whatever work you have been doing, plans you have been making will pay off. As is the case if you have not been doing the work, the choice is always yours. Right now you have the opportunity to make the changes and adjustments that you want to make as this phase is beginning - ready or not! Fear and worry are truly useless wastes of emotions and time and by focusing on unfounded fears or worst case scenarios, it ...
more »
.
.
The Off-Grid Rebellion the Media Doesn't Want You to Know About. By Daniel Arsenault, Higher Perspective, December 24, 2015 For many waking up in the modern world, the weight of the planet is on their shoulders. It seems like the more one learns, the more everything is in ruin. Climate catastrophe and secret financial institutions threaten devastation on all sides, the media is run by the corporate elite and filters the truth into coarse bits of marketing slogans, and there seems like no avenue to fight back, to levy solutions. *When even the charities seem corrupt, where does t...
more »
.
.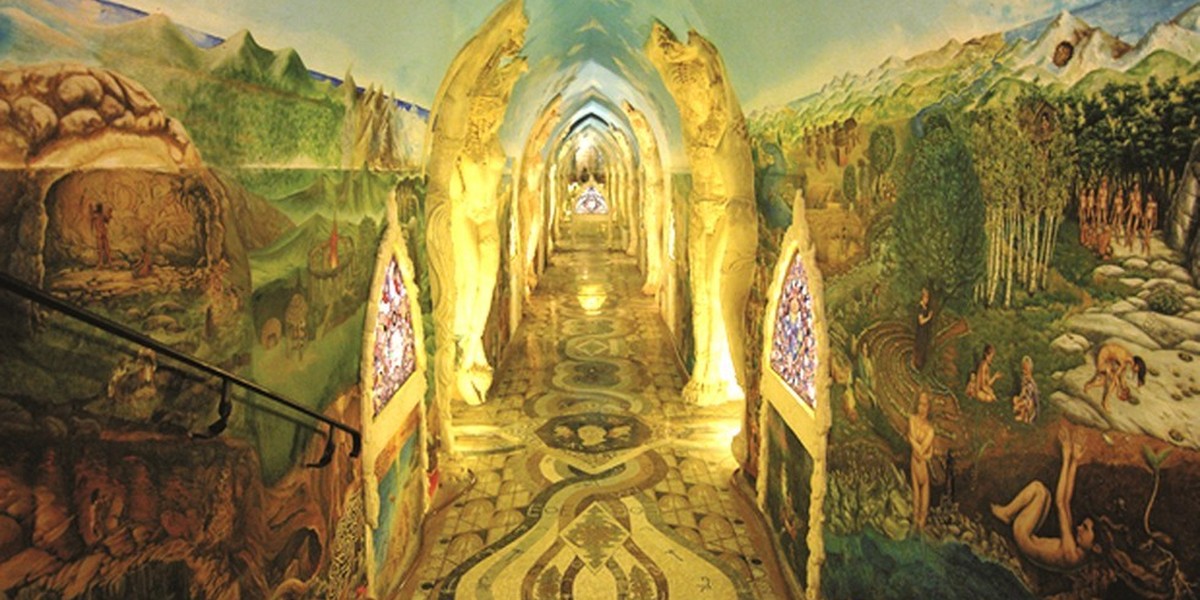 There Is A Secret Network Of Psychedelic Temples Hidden Beneath The Alps. From Higher Perspective. December 27, 2015. Beneath the Alps is an ecovillage commune that serves as a spiritual community founded in 1975 by Falco Tarassaco. It's called Damanhur and it can be found in the Piedmont region of Italy 30 miles north of Turin. From the official website for Damanhur: "Damanhur is a resilient Federation with its own Constitution, culture, art, music, currency, schools and uses of science and technology. Its citizens are open to sharing their knowledge and research with other gro...
more »
.
.
Toward Love. The Creator Writings. Transcribed by Jennifer Farley, ThetaHealing Instructor/Practitioner December 26, 2015. [image: image2] There are moments where you will run from something *in fear*. Give yourself time to stop, turn around and take one step toward your fear in *love*. Fear is unable to withstand love. Creator. Thanks to: URL: http://wp.me/p3fIGI-Wx ------------------------------ *Please respect all credits.* *This author archives: * http://rayviolet.blogspot.com/search?q=Jennifer+Farley *All articles are of the respective authors and/or publishers res...
more »
.
.
Celebrate Your Self. Mayan Messages, Through Theresa Crabtree, December 25, 2015. Today we would like to celebrate YOU! How often do you take time to be grateful for the person you are? If you would do this more often (every moment), your life would be much grander! We begin by saying, "Thank you!" Without your experiences on Earth, our lives would not be as enriched. By having the privilege of working with you, our lives are filled with joy. Take time now to thank yourself. Know that every thought, word and action you have ever participated in has spread throughout the univers...
more »
.
.
Peace Has Been Declared.Heavenletters Through Gloria Wendroff, Heavenletters.org, December 26, 2015. God said: I hear this cry coming from your heart: "God, My Beloved God, why, God, do we, your children, require comfort? Why are we so uncomfortable as to desperately seek comfort from You? Why such a need for comfort in this world?" Why? Because of the pictures you have in your mind. Because of what you have been taught. Because of what you believe to be true. Because of conclusions that the world puts together and perpetrates upon others, parts of life considered less valuable...
more »
.
.
We Are Always Learning. Positive Vibrations, by Cedella Marley, A Nice Time, December 26, 2015. [image: Cedella] We are always learning. Everything around us is consistently changing and evolving, therefore we must be willing to change our method of thinking when necessary and be willing to learn new things. These new lessons can carry you to new heights. *One Love…* *Cedella.* Thanks to: URL: http://wp.me/p1Fiwj-e4w ------------------------------ *Please respect all credits.* *This author archives: * http://rayviolet.blogspot.com/search?q=Cedella+Marley *All article...
more »
.
.
 Spiritual Dynamics Newsletter. Spiritual Growth, Vitality and Wellness. Find Peace Among the Turmoil.by Owen K Waters. Holidays can be stressful, especially when Christmas comes back-to-back with the New Year's holiday. Although relatives are a blessing, they can also be a challenge and you might find yourself losing your precious sense of peace amid what amounts to chaos. Personally, I blame Einstein's Theory of Relativity. Like most people, I found Relativity a bit of a head-scratcher. It says that space can shrink and time can slow down, all depending on something or other. Then... 
more »