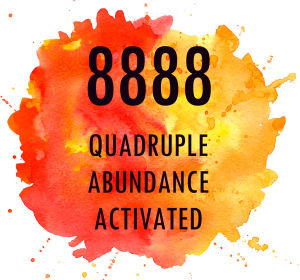 There's a lot sizzlin in the heavens this September,
 this month we are seeing a DOUBLE eclipse...
(9/13 is a new moon solar eclipse, a time for planting new intentions and igniting the path for your future…
And...
9/27 is a supermoon lunar eclipse, a time for releasing unnecessary energies from the past, including past lives, that have been limiting you from the prosperity, love and abundance you deserve.)
The period between these eclipses is an extremely rare opportunity to access your hidden gifts, talents and abilities…
Anything that has been eclipsed from your consciousness…
To manifest your deepest soul desires. 
And falling right smack dab in the middle of this astrologically supercharged window is probably the most powerful day this season…
September 17, 2015, a QUADRUPLE 8 day.
Here's the math…
2015 is an 8 Universal Year (2+0+1+5=8)

September 2015 is an 8 Universal Month (9+2+0+1+5 =17; 1+7=8)

September 17 is an 8 Date (9+1+7=17: 1+7=8)

And 17 is an 8 Day (1+7=8)
Remember, 8 is the number of infinite abundance(just turn the 8 on it's side and there you have the infinity symbol)...
A quadruple 8 day is already extremely rare… 
But an 8888 day sandwiched between two powerful eclipses...
Well, I think you get the idea.
And, you didn't think we'd let a day this good pass you by without  preparing something did you? ;)
Drumroll please...
This Thursday, September 17th at 5pm Pacific, we'll be broadcasting an insanely powerful Activating Abundance webcast, hosted by our fabulous guest Intuitive Numerologist, Kari Samuels.
During this 1-hour webcast, Kari will guide you through her deep energy clearing technique foractivating soul-level abundance.
This is exclusively for members of the Numerologist community and will cost you nothing to attend, it's our gift to you.
http://members.numerologist.com/your/sow/get-started/
We can't wait,  we promise this will be unlike anything you've experienced before.
Many blessings,
The Numerologist Team