Guised as a children's story, Chilean author Enrique Barrios writes this uplifting story of a young boy, Pete (Pedro in the original Spanish edition), who meets the extraterrestrial Ami (short for Amigo, or friend).
    While this book has been translated into many languages, and is still in print in most of them, including Spanish, the English edition is only still available as a free PDF (see link below).
    The illustrations by Glen Strock were based on original sketches by the author.
    Mr. Barrios wrote three sequals, which were translated into many languages, but not into English.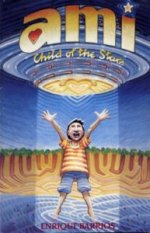 Free PDF Download:
http://www.ebarrios.com/htms/From.zip