During this morning's infoscan, I came across this piece on Veterans Today…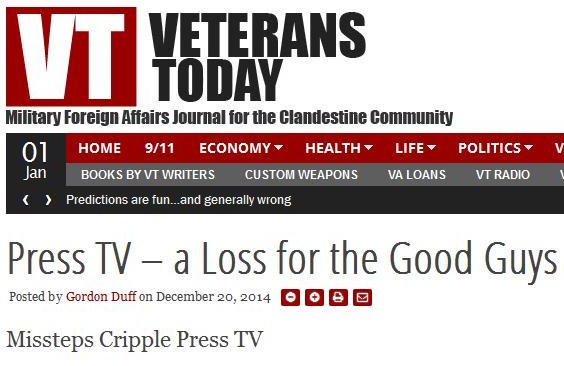 I've been so busy for the past few months that I haven't been watching what the
VT clowns have been up to lately. From the looks of this article, though, it would appear that the PressTV folks are distancing themselves from them. Let's have a look at what the article says…
"We have fond memories of our early days with Press TV when the Zionist Lobby in Europe was pressuring satellite media distributors to illegally pull them off the air…
Our interview work helped build commentary readership, and vice versa. And cross-posting our Press TV articles and then their news stories on VT began and two way leveraging effort to gain us both wider exposure. But the media business is a stressful one, with pressures on it from many directions…
We have been emails from readers for two months asking what was happening at Press TV and all we could say is we just don't know. It could be management changes, nuclear talk jitters, our coverage of Israel and Turkey backing ISIL along with the US and Gulf States, etc…
We long to get back to doing that work with them once again like in the good ole days. Much more  remains to be done, and we opened a new front at the Syrian Counter Terrorism Conference in early December."
So it seems that PressTV pulled away from VT a few months ago, and it was a few months ago that I wrote the first three installments of my series on VT. I guess "great minds think alike"; they must have come to the same conclusions that I did at roughly the same time. But this leaves us with a question:
Did they dump the VT disinfo clowns because they hadn't previously realized what they are, or did they know what they are and dumped them because they'd become publicly exposed?
The answer to this question would tell us alot about how deeply under globalist influence the Tehran government has fallen.
Going on into the article, Gordon Duff begins attacking PressTV for their choice:
>>> There may well be factors involved.  The most telling of which is the recent New Horizons conference in Tehran.  Those managing this conference got "suckered" into inviting Gareth Porter and several others Iranians mistakenly saw as "great thinkers" and "intellectuals." /strong>
So according to Duff, the Iranians are "suckers."
>>> Though the conference had Ken O'Keefe and Kevin Barrett in attendance, people with strong reputations, many were simply hacks or, as was proven out, "paid opposition." /strong>
Wow, "strong reputations," eh? I guess being a VT bureau chief or correspondent…


…or an editorial board member…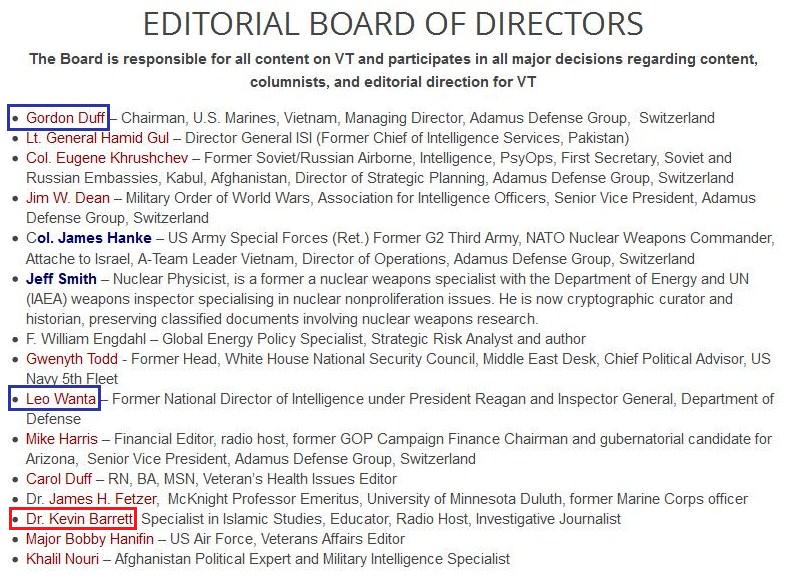 …qualifies you as having a "strong reputation." So are O'Keefe's and Barrett's reputations as strong as Gordon Duff's and Leo Wanta's? One wonders…