I know it's not about the moon but it's quite interesting.
DISCONNECTED TAIL: On Feb. 4th, a team of Italian astronomers witnessed "an intriguing phenomenon in Comet Lulin's tail." Team leader Ernesto Guido explains: "We photographed the comet using a remotely-controlled telescope in New Mexico, and our images clearly showed a disconnection event. While we were looking, part of the comet's plasma tail was torn away."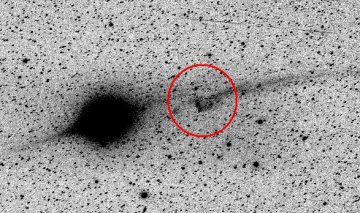 Photo credit: Ernesto Guido, Giovanni Sostero & Paul Camilleri [more]
Guido and colleagues believe the event was caused by a magnetic disturbance in the solar wind hitting the comet. It's a plausible hypothesis. Magnetic mini-storms in comet tails have been observed before--most famously in 2007 when NASA's STEREO spacecraft watched a CME crash into Comet Encke. Encke lost its tail in dramatic fashion, much as Comet Lulin did yesterday.