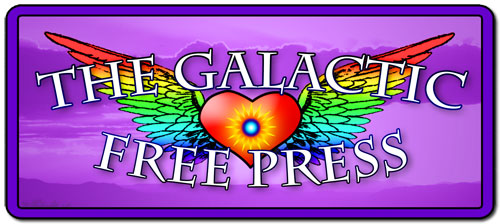 Bringing Humanity Home ~ Energy and Event Update~
Greetings Love Beings, if you thought time was speeding up before this moment watch out.  We hit another acceleration button!! We are Going to Be Moving and Moving Quickly. What does this mean? The Awakening Process is speeding Up! Along with this energy movement all who are hanging onto any type of the old energy of unconsciousness, fantasy, illusion or ego and most especially any spiritual ego is going to be like someone pulled the rug from underneath them, energetically speaking. The old energy has no where to go, but either dissolve or be released from the Planet. We have shared this was going to happen as we got closer to the Galactic Alignment.
 Quoted from Kate Spreckley
"The energy over the next two months promises to be extremely powerful and will initiate many transformations for us all.  Since the Spring / Autumn Equinox in September the energy has intensified with huge surges of light energy bathing the Earth.  We can expect the intensity to increase as the energy moves to flood through us, washing away the past and bringing an end to much of the uncertainty of recent times.  Feelings of tension, pressure, exhaustion and back ache are common symptoms but thankfully with an underlying excitement brewing beneath the surface, revealing new possibilities and opportunities.
Collectively we are all in the throws of a period of destruction and reconstruction.  It is an intense time of rapid processing, purification and healing where expansion, growth, learning and Spiritual awakenings will become more and more pronounced.  During this time remember that your Soul journey is a winding path of self-discovery, transformation and evolution. ...
The energies over the next two months will move to magnify and activate the energetic structure of your DNA initiating the release of your Divine Soul Blueprint. This powerful energy will form a beam of light that will reveal and amplify the energy of your Divine Soul Blueprint, which will trigger your cellular memory and a reconnection with the very core of your being.  As this process unfolds the energy of your suppressed wounds and patterns of imbalance will fall away.  Your deepest truth will emerge from the depths of your Spirit to expand your self-awareness and awaken the power you need to unleash and activate your hidden potential, gifts and Spiritual abilities.  You will gain the ability to trust your inner vision, instincts, intuition and the strength needed to courageously take action on the guidance you receive."
http://soundofheart.org/galacticfreepress/content/kate-spreckley-en...
Daily Sun: 19 Oct 12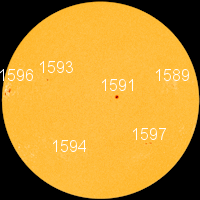 New sunspot 1596 is large and might pose a threat for M-class solar flares. More about this active region will be known in the days ahead as it turns to face Earth. Credit: SDO/HMI
Our Sun is Active again with many sunspots and a large one coming around to face earth. In the last 24 hours we have had 2 C Class Flares, we will get some energy from these. Our Earthquakes are active and no damage has been reported. The largest ones we have seen were in remote islands.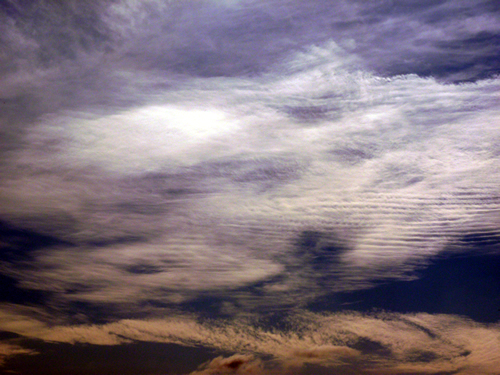 Cloudships Photo by Earth Ally Rain
Weather and Volcano Report from Earth Ally Rain "After a brief lull in extreme weather, we experienced several severe weather events in the U.S. the past couple of days. There was a severe dust storm with very high winds in the Midwest. Storms and tornadoes swept a large path from Mississippi to  Missouri, destroying a number of homes. A tiny town in North Dakota was destroyed by a windswept wildfire, displacing 27 people. Finally,  Drought conditions continue to affect about 5/8ths of the contiguous United States. At Kilauea Volcano in Hawaii, the lava lake within the Halemaumau Crater has reached its highest level since the summit eruption began in 2008."
We have Powerful Energies and Events unfolding this weekend. A Window of opportunity is opening and major portal as well and will remain open until December 21st 2012. With this Window of opportunity Humanity has a Choice to Completely Change Everything on this Planet Quickly. The Moment to Act is Now.
 Quoted from Cobra "Humanity as a whole has invited the dark forces on this planet in Atlantis. This was our old decision which triggered a cycle of suffering for humanity. Now, on October 21st, we are making a new decision. We are choosing freedom from all darkness and we are inviting forces of Light. We are deciding for unity and cooperation, we are choosing to be non-judgemental and loving to each other...
The energies are definitely building up and one of the projects of the Light forces shows great progress..The Orionid meteor shower peaks on October 21st and will signify the power of our decision" End of quote
http://soundofheart.org/galacticfreepress/content/cobra-update-powe...
Its time to stand up together and unify. Everyone needs to set aside their differences and work together as the Family They truly are. If you would like your freedom back, then you have to take it back. Everyone has a Collective Opportunity to Accomplish this, this weekend.
Quoted from Bill Ballard and Lucas "Join us October 21, 2012. It is time for ALL Light Masters to come together as ONE BEING in a single unified focused event to change our Planet/Collective and Universe. We have been joining before as smaller and more individualized groups but that must now expand into the 1 single being we truly are. October 21 2012 is being called for the first of many of the singular focused events joining all humanity, the ETs and ITs to make this shift. This can only be done as ONE BEING IN ACTION. Here we go peeps! I LOVE YOU ALL! Let's Get This Done!
Lucas : All those wanting to unite, focus on the change let's do it together
I call upon those known to me The Galactic Free Press, The Steve Beckow Group, The InLight Group, Geoffrey West from CVN, Cobra, Drake, Channelers, Bloggers, Lightworkers and Lightwarriors,  and all others Unite in focus and spread the message via social media and blogs, etc. MAKE IT VIRAL :  Please just do focus in unity together on 21 October 2012 in what way you can in love and unity to make things happening in the now. The new system already online, the people co-creating  for the good of all humankind and living in abundance and peace and harmony and unconditional love. You can have  a moment, a meditation, a visualization, a few minutes or more,  just focus that day  in whatever way in unity to make a shift and change happening for all of us. Do it . It is just now the moment!
Love and Light and namaste,
Bill and Lucas
http://soundofheart.org/galacticfreepress/content/my-movie-%E2%80%9...
Quoted from Isabel Henn" You are residents of One planet. Forget your quarrels and work together hand in hand in building your new One joint society[New Earth]. I know this is the desire of almost all people. It is the desire of your 99%. As you can see, we follow the events on your planet very closely. We can just only send you our love, but soon we will be able to support you energetically. Our ships are only waiting for the signal for landing.
We will see you soon.: End Of Quote
http://soundofheart.org/galacticfreepress/content/you-are-one-great...
AS We go through these Portals mass amounts of Light are penetrating the Planet. These Next Few Days, Some have referred these incoming days as the three days of Light which is just an analogy for Intense Energies Incoming. For those who are not connected do not know anything is happening. For those who are connected all Dreams of Love, Prayers and Visions will Become Magnified Now in this Energy Incoming.
Quoted from Isabel Henn "The end of the year is now approaching fast, just over two months until the day of Ascension. I am aware that many of you still doubt this great event: it is irreversible. Ascension will take place, the delays in other areas can not prevent this. We work day and night with our allies in order to achieve at least still some of what you have been announced so many times. Also we have our timelines, we must follow. Disclosure is imminent, as is the redistribution of money and the introduction of a new single currency. Immediately following disclosure the first of our ships will land on specified places. These places are where people are open to us and are not afraid to meet us. Other landings will then follow..."
http://soundofheart.org/galacticfreepress/content/trust-your-body-it-knows-exactly-what-good-and-appropriate-it-salusa-through-isabel-henn
Cloudships[ Scoutship] Photo By Earth Ally Missy Sunshine
6 years ago the First Contact Team Woke Up to the Mission and have been working 24/7 ever since. We have been preparing everyone for the Moments we are Now in. Many lightworker groups plus the cabal minions have been resisting us all this time which has created an intense clean up for NOW. This resistance is about to change in our incoming energies With this Whammy Portal of 10~21. Our Craft have put us on notice. 
WE are in the Final Cleansing and this means unconsciousness is going to be dissolving at quicker rates.
Decreed by Heaven~ We... To Read this Entire Update with the Synchronostic Music You can Follow this Link: http://soundofheart.org/galacticfreepress/content/galactic-free-pre...